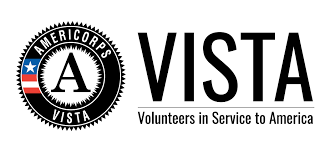 History Behind the Organization
-President John F. Kennedy originated the idea for VISTA, which was founded as Volunteers in Service to America in 1965, and incorporated into the AmeriCorps network of programs in 1993.
-AmeriCorps VISTA (Volunteers in Service to America) members bring passion and perseverance where the need is greatest: to organizations that help eradicate poverty. AmeriCorps VISTA members serve as a catalyst for change, living and working alongside community members to meet our nation's most pressing challenges and advance local solutions.
-AmeriCorps is a network of national service programs, made up of three primary programs that each take a different approach to improving lives and fostering civic engagement. Members commit their time to address critical community needs like increasing academic achievement, mentoring youth, fighting poverty, sustaining national parks, preparing for disasters, and more.
Organizations in Cherokee County with VISTA Volunteers
Cherokee County Health Services Council
Emily Ford
Cherokee Heritage Center
John Culpepper
American Indian Resource Center
Caitlyn Mooneyham
Tahlequah Farmers Market
Mallory Maloney
Tahlequah Habitat for Humanity, Inc.
Marvin Jones
Tahlequah Habitat for Humanity, Inc.
Ana Doris
Currently Hiring for AmeriCorp VISTA Positions:
Tahlequah Main Street Association, Inc.
Please contact
-Jamie Hale
918 431 1655
Tahlequah Area Chamber of Commerce
Please contact
-Cindy Morris
9184563742
​